Our vision is to make the financial system more stable and equitable, as well as accessible to all by complementing it with competing digital currencies of corporates and corporate networks.
Leondrino - Platform for Digital Corporate Currencies
We want to build the most trustworthy ecosystem for digital corporate currencies (fungible tokens). In addition to establishing an alternative funding option for companies, we offer an intelligent way of introducing modern and efficient customer retention management: payment and loyalty grow together.
With Leondrino, we are developing a standard for corporate currencies (fungible tokens), that, through transparency, clear rules, and the use of technology, contributes to greater understanding and trust in these future currencies and enables barrier-free payments.
Leondrino currencies are backed by the obligation of corporations or corporate networks to accept their corresponding branded currency (fungible tokens) in exchange for their goods and services. Leondrino currencies are designed and managed as stable currencies related to the product basket of each brand. For Leondrino currencies which reach the highest standard of a traded currency (token class A according to Leondrino Lifecycle), elastic supply in combination with a modern reserve management is applied.
The German licensee of Leondrino based in Berlin (Leondra GmbH) is one of the pioneers in the field of tokenization and digital corporate currencies (fungible tokens) and offers its customers an innovative and unique 'Currency Management-as-a-Service'; customers can issue their own tokens and develop them step by step to tradable currencies.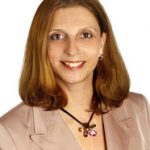 Sandra Leonie
Co-Founder 
CEO